I Got to Live in the Future for 12 Days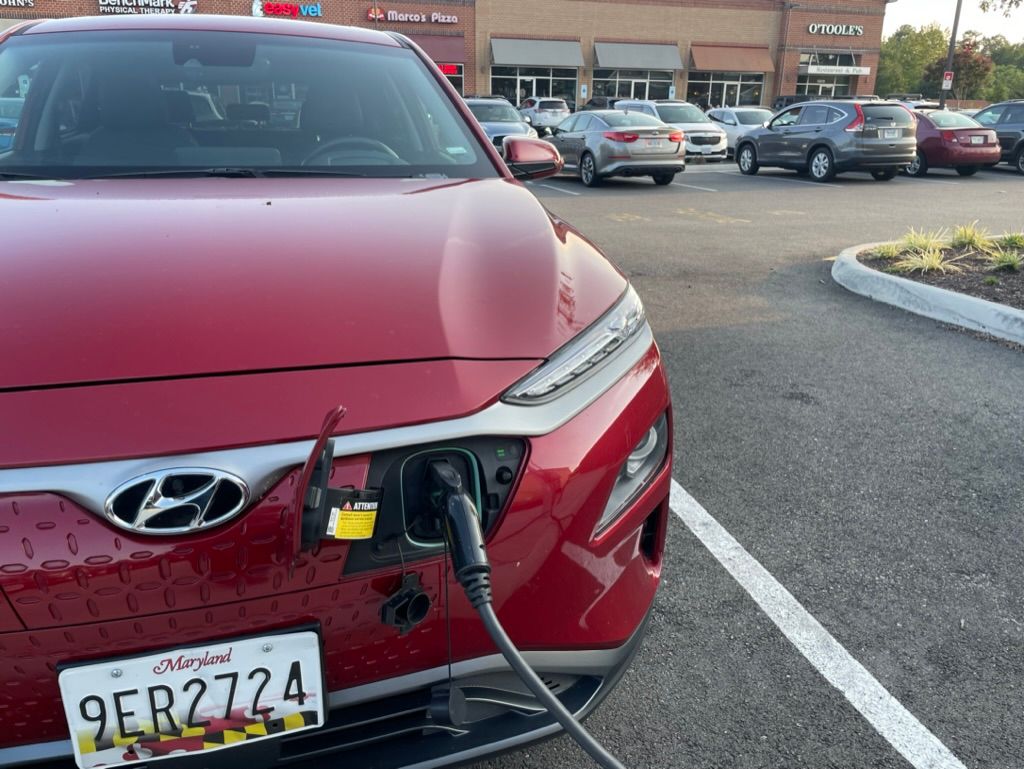 It feels like I'm the last person in the U.S. to drive an EV for the first time, but my recent need for bodywork on my main car (a Honda hybrid) presented me with the opportunity to try out living with a fully electric vehicle for a little while. I thought I'd jot down a few thoughts, if only for my own benefit at a later date when I'm in the market for a new car.
The Car Itself
After being presented by the Enterprise Rent-a-Car associate with the choice between a Dodge Challenger and a Toyota Camry, I asked if they had any EV options. They offered a 2021 Hyundai Kona EV, which is a small crossover SUV that is externally (and presumably internally) almost identical to the internal cumbustion engine (ICE) models. If you saw one on the street and didn't see the little "electric" badge on the back or notice the lack of a grille on the front, you wouldn't know it was an EV. When I got the car, it was 89% charged. The sales person told me I was welcome to charge on their charger and that a CCS fast charger could charge it in about 45 minutes. (More on charging later.)
The Kona was comfortable and easy to drive. I particularly liked the cooled seats. It also had a heads-up display that can show you the speed limit, your speed, the lane-keep assist status and even GPS directions, if using the built-in navigation.
The infotainment system is slow and clunky, but the car supports Apple CarPlay (and Android Auto), so that solves some of that problem. It also has a Qi charger built into the console below the radio, but I found it hard to use, because my iPhone would shift and not be in the proper place for charging. Most mystifying, while it has a Qi charger, it only has wired CarPlay, so you had to choose one or the other, anway. (I did grab the wireless CarPlay adapter from my Honda when I put it in the shop, and would use that with the Kia.)
Charging and Being Charged
Ok, let's get into it. First, I did not have a way to charge this car at home. It did come with a charging cable that could connect to a standard 3-prong residential outlet (120V), but I don't have a garage and there is not an outlet adjacent to my driveway. For that reason, I don't have a sense for how much charge I would have gotten from overnight "Level 1" charging, but my sense is that, while it probably would not be sufficient if I owned an EV, it would have given me a nice extra bit of juice for my time with the car, which was mostly around town. If I owned an EV, it would be crucial to get a "Level 2" charger to charge overnight. With that, I would not need to use a public charger unless I was on a long trip.
At 89% charge, when I picked it up, the Kona said I had about 220 miles of range. If my car had been ready at the body shop within the original one-week estimate, I might not have had to charge it at all. (Unlike with a gas car, Enterprise said I could return the EV with any charge level, even empty.) But I also wanted to experience charging it, so, on the first Saturday, with about 30% battery, I decided to find a charger while I was out.
Because the Enterprise person said I could charge for free there, and it was fairly close to home, I thought I'd start there. What I hadn't understood while picking up the rental was that they only had a Level 2 charger, a.k.a. a slow charger. I plugged it in and got a message that it would be charged to 80% in almost 7 hours. I unplugged and used the built-in navigation to find a nearby fast charger, which turned out to be at a car dealership. After first finding myself at the wrong charge—another Level 2, this time a ChargePoint charger, for which I had to download an app and authorize a payment method to even get the charging cable out of the thing and realize it was the wrong kind—I found my way to the right charger, an ABB Level 3 charger behind a Nissan dealership.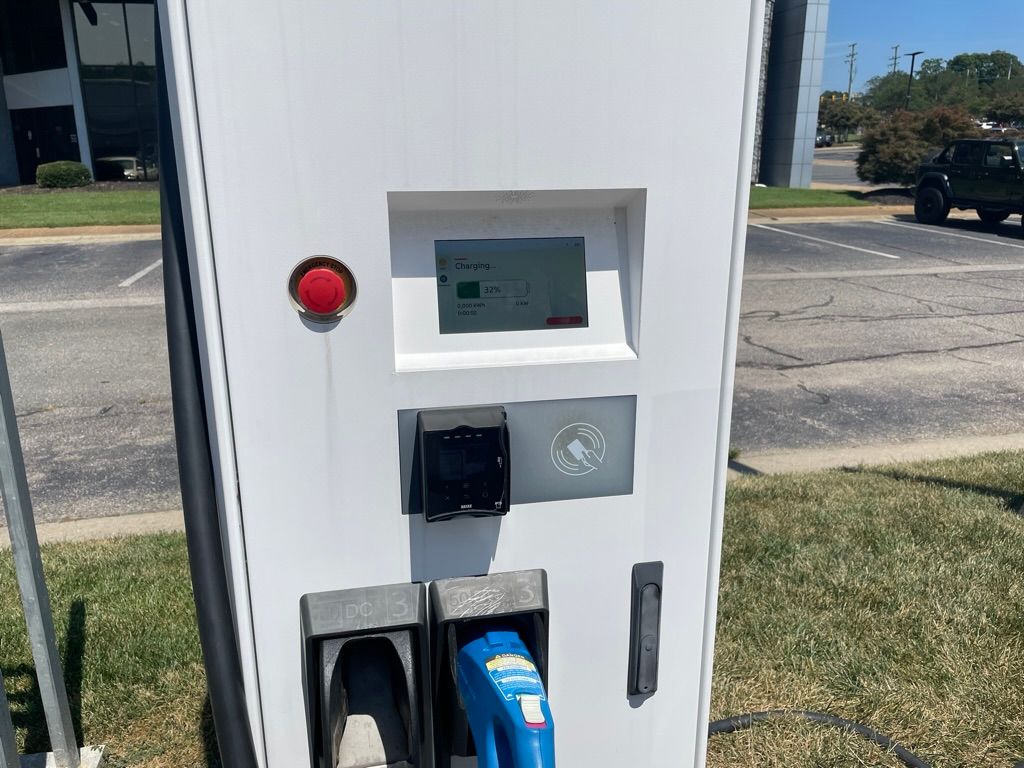 This was a much better experince. For one thing, it just took a credit card payment... no app needed. And, probably more importantly, it promised to get me to 80% in 45 minutes. By this time, a soccer game I wanted to watch was starting, so I figured I'd sit by and watch the first half and then be on my way. It was a pretty hot day and I found that having the A/C on in the car slowed the charging progress considerably, so I wound up sitting with the windows down and the car off. But there was enough breeze that it wasn't uncomfortable. It may have been user error that I couldn't charge with the A/C on, or it could be the fast charger just didn't have enough juice (it was rated up to 50KW). That evening, I also went to a Dairy Queen that had a Level 1 charger in the parking lot (pictured at the top of this post). In the time I was there, I got enough charge to make up for the energy used getting there and back, which was fun.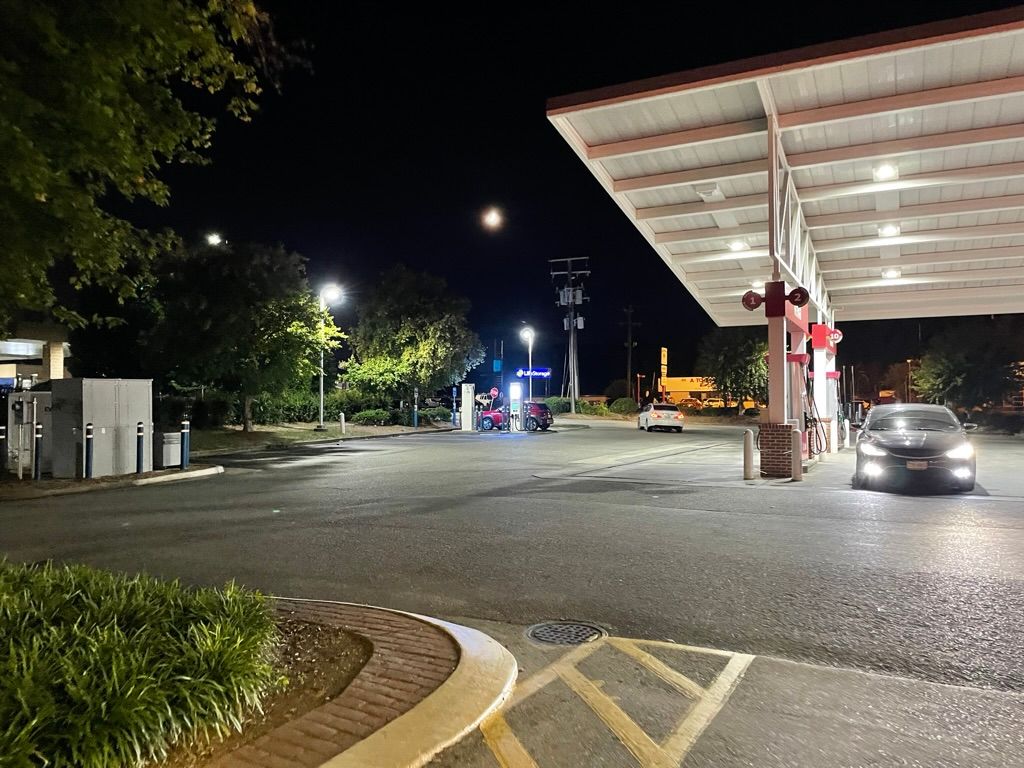 Initially I was hoping to get my car back on that Tuesday, but it wasn't ready. Because I had to take a trip out to Charlottesville (70ish miles each way), I wanted to make sure it was charged up. I was at a rehearsal on the other side of town, so I had my pick of chargers. I ended up downloading the PlugShare app on a friend's recommendation, and that lead me to a two-station evGO charger at a Wawa north of Richmond. This was also a fast charger, and it also took credit cards (though I could have gotten a cheaper rate by fiddling with their app), so I got it charging and went into Sheetz for a snack. This time there was plenty of juice to have the A/C on while I waited, and I listened to podcasts while I charged for about 25 minutes.
On the way back from Charlottesville, I also charged at a fast charger at a Sheetz off of the interstate. This one had chargers promising up to 300KW (which the Kona can't achieve). Initially, two of the chargers were down for maintenance and I got there just behind two other EV drivers, but by the time we went inside the convenience store for a bathroom break and a snack, the maintenance truck was gone and we were able to charge enough to feel comfortable getting home.
Ultimately, I never had to charge the car again, as I returned it that Friday.
All in, I spent about $40 on charging across the three charges.
The Bottom Line
Before renting this car, I had thought that, if I were shopping for an EV, only the "better" (longer-range) models should be in my consideration set. But, after living with this EV for just under two weeks, I can say that it would be more than sufficient for all but the longest road trips. And, a slightly better EV (like the faster-charging sibbling of the Kona, the Kia EV6/Hyundai Ioniq 5) would be good enough there, too. One thing I did notice is that many of the chargers in my part of town are at car dealerships and are of quite varying quality. However, if I had a charger at home, I would almost never need to use those chargers, anyway. Ultimately I found the whole experience encouraging, though I'm not in a rush to run out and spend $30k or more on a new car.